Prepared by Eleanor Lincoln, CSJ, and Catherine Litecky, CSJ
Women at the Well Ministry, St. Paul, Minnesota ©2004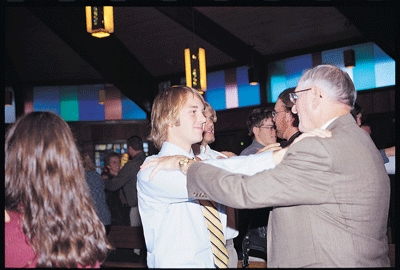 The Lord bless you and keep you!
The Lord's face shine upon you and be gracious to you!
The Lord look upon you kindly and give you peace!

Book of Numbers 6:24-26
God blesses you always. And from morning to night you can have a blessing in your heart and mind for all that you receive and all that you give to others. Think about how just waking up in the morning can be a blessing.
Our word "bless" comes from the Latin benedicite which means "to speak well of" and by extension "to confer well-being or holiness upon." Blessing is a way of sending loving thoughts to and about one another.
"May I be a blessing to all I meet today. May they be a blessing to me." This is a beautiful morning prayer that can help you to begin each day on a positive and loving note. All day think about how you can be a blessing to others.
Remember the blessings you have received from others in the past few days. Remind yourself to become more aware of the blessings that surround you every day.
In one of her popular novels about the town of Mitford Jan Karon has created a very lovable and charming character, Father Tim. This elderly Anglican priest knows everyone in Mitford and everyone knows him. As he starts out for his walk around town each day, he prays that he will be a blessing to each person he meets. He is certainly that. And as the day goes on, he is aware how each person in turn has been a blessing to him.
Have you seen the movie, "Paying It Forward"? This movie can also remind us of blessing: always to do something for someone else in response to the good deed that another person has done for you. This can make for a endless circle of blessing as good deeds continue to be extended.
How often do you think of all of the blessings in your life? Perhaps you might want to make these blessings part of your morning and evening prayer. God blesses you with so much each day. Being grateful is the best prayer you might make. There are so many ways to grow in grace (to receive blessings) all day long.
"God bless you" can sometimes seem like a wornout phrase. But if you say it as if you really mean it, that will be a blessing to you too. What about asking a blessing of the other drivers on your commute each day? What about "conferring a blessing" on the unwanted caller on the phone? There is nothing and no one that you can't "confer well-being upon."
These ways of growing in grace take almost no time at all, but ask only for your attention and intention:
Use waiting time to turn your heart to God.
Give thanks for any and every blessing of the day.
Hold your tongue rather than use it to hurt.
Restore God's creation by picking a weed or picking up a piece of trash.
Choose a bible verse for the day and reflect on it as you walk or ride along – or before you go to sleep tonight.
Notice how often the words "bless" and "blessing" appear in the Bible. Life itself is a blessing. Reflecting on some passages from the Bible will be a great blessing if you let them really speak to you.
Let the Beatitudes (or Blesseds) come to your mind and open yourself to Jesus speaking to you through his gospel. In his Sermon on the Mount (Matthew 5:1-12) Jesus describes the way to blessedness or happiness. "Beatitude" means "blessed" but it can also be translated as "happy" or "holy."
We all want to be happy. But true happiness is difficult to find – unless we follow the way of Jesus. The Beatitudes call us to be happy in the midst of a troubled world by asking us to live God's way, not the world's way.
This loving, demanding way of living was first fulfilled in the life of Jesus. As Jesus' followers, we too are challenged to live the good news (the gospel) which gives us an outlook on life very different from the world's view.
Living out these Beatitudes is the way to holiness. In Matthew's gospel (5:3-12) you can read how Jesus calls blessings on those who are poor in spirit, those who mourn, those who are meek (humble), those who hunger and thirst for righteousness, those who are merciful, those who are clean of heart, those who are peacemakers, and those who are persecuted for the sake of righteousness.
Look for the eight Beatitudes (Blesseds) that can bring the greatest blessings to your day – or to your life. The brief reflections that follow may give you a start.
Blessed (happy) are the poor in spirit, for theirs is the kingdom of heaven (5:3).
This first beatitude can remind you that everything is from God and that you have nothing without God. Being poor in spirit does not mean having no possessions but it means not being possessed by your possessions, be they many or few. This blessing asks you to realize that your possessions, your time, your everything come from God. How care-free about everything you can be if you share God's gifts with open hands. You are as blessed as are those to whom you give the blessing of yourself, your time, your talents!
Blessed (happy) are the meek, for they will inherit the earth (5:5).
You are blessed when your whole life is dominated by gentleness, not by violence. You are "meek" in the true sense of that word when you try to reverse the world's attitudes about power and prestige.
When you are meek or nonviolent, you shall inherit the earth, not if you violently seize it–but if you gently show your strength. Your meekness or nonviolence can grow out of your realization that God's power holds you. Being sure of God's acceptance means that you don't have to exert power to prove yourself or to lord it over others.
Think of Mother Teresa of Calcutta whose gentleness and kindness were her strength. She gave hope to the sick and suffering of India and hope also to those who supported her in her efforts to bring about peace and healing.
Blessed (happy) are they who hunger and thirst for righteousness (justice), for they will be satisfied (5:6).
If you hunger and thirst for what God wills, for what is right and good, for what is just and holy, you will be truly blessed by God. You will be happy. God empowers you to be just so you can complete the circle of God's care for others. By being part of this circle of care, you will be truly blessed because you will be satisfied, fulfilled, completed, and made whole.
What positive, immediate action of justice can you do in your neighborhood or your workplace today?
Blessed (happy) are the peacemakers, for they will be called children of God (5:9).
You cannot be a peacemaker unless you have peace in your own heart. Peace is an inner attitude. How can you make peace from inside out? You need to be able to forgive yourself (as well as others). One person begins each morning by saying, "I begin today with a fresh forgiveness." Isn't this a simple way to inner peace? Isn't this a way to bless the entire day?
You can make peace in yourself and in the world by living all the other Beatitudes, the other "blesseds." What a blessing to be truly care-free, to give and receive comfort, to be gentle, to be live in justice, to be compassionate, to be open-hearted, to have peace in your heart. In these ways you can help to bring peace to our families, our neighborhoods, our world.
Which "blesseds" speak to you most strongly today? Jot down a few words reminding yourself of a way you can live out a beatitude that particularly speaks to you right now.