Prepared by Eleanor Lincoln, CSJ, and Catherine Litecky, CSJ
Women at the Well Ministry, St. Paul, Minnesota ©2004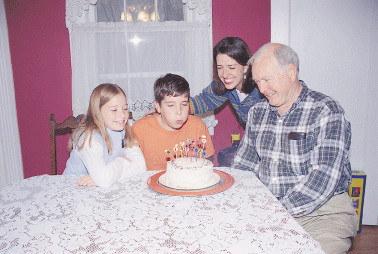 Take one minute now to think about how you plan to use your time today. Can you think of ways you might celebrate time? Can you plan ahead so you won't waste time? How can you use your time to bring yourself peace of heart and mind today?
There is an appointed time for everything….
A time to be born and a time to die;
a time to plant and a time to uproot the plant….
A time to weep, and a time to laugh;
a time to mourn and a time to dance….
A time to seek and a time to lose;
a time to keep and a time to cast away….
a time to be silent and a time to speak.
A time to love, and a time to hate;
a time of war and a time of peace.

Book of Ecclesiastes 3:1-8
How does your attitude toward time compare with these lines from the Book of Ecclesiastes? These "time to" phrases describe significant events in human life. Think about this beautiful passage in terms of your own life. How have you experienced birth or death among your family members and friends? Think about the times in your day or week when you weep, laugh, mourn, dance, speak, love.
How often do you hear or use these expressions?
Time marches on!
She's living on borrowed time.
It's a matter of timing.
Time is money.
I'm just killing time.
Or, as a child, did you learn this verse about using time well?
"I have only just a minute, only sixty seconds in it.
Forced upon me, can't refuse it, didn't seek it, didn't choose it,
but it's up to me to use it, give account if I abuse it.
Just a tiny little minute, but eternity is in it."
Time is a prized possession for all of us. We Americans value time as money, and we admire people who accomplish much in a short time. We automatically measure our lives in segments of time: years, months, weeks, days, hours, minutes, even nanoseconds.
What matters is how attentively and lovingly you live each day. "Any day is a good day to be born and any day is a good day to die," according to Pope John XXIII of blessed memory who gave the world a wonderful example of how to face death. In his long dying process he recognized that time is a gift from God to be used to the best of his ability.
At this point make a list of all your essential activities for today: showering and dressing, eating, sleeping, working, etc.
Next list your optional activites for today: watching television, reading, hobbies, social activities with your friends, etc.
Mark the activities in either category that you find life-giving and energizing. Mark those activities you find boring or tiring. What makes an activity life-giving or boring?
During the time you are devoting to this "busy person's" retreat modify or add to your list. Through your prayer and reflection these days you may discover a rhythm and balance that will help you live more attentively and lovingly.
How can you make your time holy? As a "busy person" you probably race against time to get everything "done." Our culture values speed, and many of us are constantly "on the go." As a result, at the end of a day you may be exhausted with very little to show for your efforts. This retreat may help to make your time more meaningful, even holy!
For one day you might try to go to bed earlier and get up earlier so that you have time and energy for living more attentively and loving. How can you find more space in your day (and night?) for reflective living? How can you move from being time-bound to making time count?
Ways to be more attentive to God begin with being more aware and loving toward those around you, even as you do tasks of daily living.
Even just taking some deep breaths will quiet you down and make you more loving and peaceful.
A magazine like Woman's Day, some years ago published an article entitled "Food for the Spirit: 50 Ways to Grow in Grace All Day Long" (June 29, 1993). The section entitled "The Stolen Moment" includes ideas like these:
Use waiting time for God for prayer and contemplation (e.g. while commuting, standing in line).
Meditate in motion (e.g. while washing the dishes or doing other household tasks, while running or jogging, while driving a car).
Say a prayer when you hear a siren (for all those who need help or are helping).
People in other parts of the world can help us put time in perspective. Those who help new immigrants adjust to American culture are amazed at what these newcomers can teach them. Mary Pipher in her recent book, The Middle of Everywhere: The World's Refugees Come to Our Town, tells how refugees she taught showed her how to slow down to the "speed of wisdom." How can you too learn to slow down your pace and live in a more reflective way?
Remember in the Book of Genesis: "So God blessed the seventh day and made it holy because on it God rested from all the work . . . of creation" (2:3). In this story of creation God made time holy.
Other passages in the Scriptures speak about placing life and time in God's compassionate hands. This is a good prayer to say several times a day: "I will bless the Lord at all times; God's praise shall be ever in my mouth" (Psalm 34:l).
The Bible will help you understand that time can be experienced in ways that are deeper than clock or chronological time in expressions like "The time is at hand" (Luke 21:8) and "But the hour is come, and now is" (John 4:23). These lines refer not to chronological time but to a unique time beyond measurement.
For Jesus the words "time is at hand" and "hour is come" refer to the completion of his earthly mission leading to his passion, resurrection, and glory.
You may have experienced special moments which changed your life forever. Some people know the exact moment they fell deeply in love or realized in a special way what God was asking of them. Such a moment out of time can take your life in a new direction.
To live in the present moment is the best way of being attentive and loving to God and to others. Spend a moment to reflect on each of these passages from the Bible:
"If today you hear God's voice, harden not your heart" (Psalm 95:8).
"Teach us to number our days aright, that we may gain wisdom of heart" (Psalm 90:12).
"Now is the acceptable time, now is the day of salvation" (2 Corinthians 6:2).
Now look again at your list of essential and optional activities for today. In light of your attentiveness to time today ask yourself how your spiritual energy has increased.