Prepared by Eleanor Lincoln, CSJ, and Catherine Litecky, CSJ
Women at the Well Ministry, St. Paul, Minnesota ©2004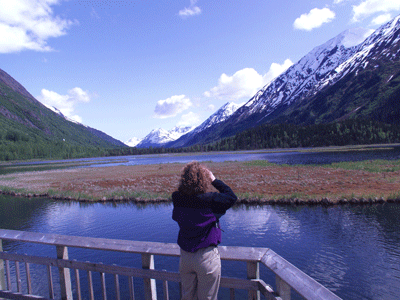 God looked at everything God had made and found it very good.

Genesis 1:31
…we, the peoples of Earth declare our responsibility to one another, to the greater community of life, and to future generations.

Earth Charter
What makes you feel really alive and at your best? Today think about what is life-giving for you and how your own creativity can bring re-creation to others.
Do you feel like this quaint little girl who wrote in her diary her exuberant "joy song of nature"?
"The sun was up, and the birds were singing… I did have hearing of many voices – they were the voices of earth, glad for the spring. They did say what they had to say in the growing grass, and in the leaves growing out from the tips of branches….
Most every day, I do dance. I dance with the leaves and the grass… I feel like a bird, sometimes. Then I spread my arms for wings, and I go my way from stump to stump, and on adown the hill….
Then I nod unto the willows, and they nod unto me. They wave their arms, and I wave mine. They wiggle their toes in the water a bit, and I do so, too. And every time we wiggle our toes, we do drink into our souls the song of the brook–the glad song it is always singing. And the joy-song does sing on in our hearts" (Opal Whiteley in her diary written at the beginning of the twentieth century).
Centuries ago many of the Psalms in the Bible expressed this same joy in creation and this same sense of wonder. In Part 4 of this Busy Person's retreat you prayed lines from Psalm 8 which say in more adult language what this little girl is feeling.
Think about all the biblical stories and psalms about God's creation that you know. How do they remind you that everything God made is good and to be praised?
Familiar hymns can also lift your heart in praise and song.
All creatures of our God and King, Lift up your voice and with us sing: Alleluia!
O burning sun with golden beam And silver moon with softer gleam: Alleluia!
Dear Mother earth, who day by day Unfolds rich blessings on our way, Alleluia!
The fruits and flow'rs that verdant grow, Let them God's glory also show. Alleluia!
In our own day the earth is being harmed by human indifference and also by wars, violence, and greed. The Earth Charter, a declaration of fundamental principles for building a just, sustainable, and peaceful society in the 21st century, seeks to inspire in all people a new sense of global interdependence and shared responsibility for all our earth.
Just think, you are one of the creatures capable of making decisions that will preserve the earth! Are you becoming more aware of the need for wise decisions to be made to preserve our planet? For example, how careful are you in the use of water? Pollution of air and water are endangering the survival of human beings on earth.
This is an overwhelming problem, but just stop to think about your own use of water. How is water essential to you? In what ways can you preserve water today? Thank God for the refreshing gift water is to you.
Maybe you are very aware and involved in dealing with environmental problems. Or perhaps you feel overwhelmed and helpless. In either case, the saying, "Think globally, act locally," is the first step, helping you to get a handle on the problem.
Your ecological consciousness can be closely related to a spirituality of creation. Find the sacred in material things like water, bread, wine, and oil. When you look at God's creation with eyes of faith, can you see signs of grace everywhere?
Any created thing can raise your heart and mind to God. Your appreciation of natural beauty in its many forms – land that is productive, streams and lakes that are pure, open skies that are unpolluted – can make you more fully human and grateful for God's gracious gifts.
How you act, individually and collectively – in insisting that the goods of the earth exist for all the earth's people and not just for a few–is not a small matter. If you can help in any way to protect the natural environment in light of the current situation of war, violence, and destruction, you will be effectively living out your role as a loving creature of God.
Remember that you do not own any of the glorious wonders of creation but share with others the gifts of God's creation. Let the Earth charter remind you that, in the midst of a magnificent diversity of cultures and abundant life forms, you belong to one human family and one Earth community with a common destiny.
Take a few minutes to reflect on your role in the universe. Thank God for the privilege of your creation as a human being and for your responsibility to care for the earth. An ancient saying from the Jewish tradition speaks of a human being as "a speck of dust and a spark of the divine". What does this saying mean to you.
How do you describe yourself? If you have a "spark of the divine" and describe yourself as "spiritual but not religious," your prayer may include projects like planting trees, restoring prairie grasses, and making a compost heap.
Compassion – and a contemplative attitude – are the core of true spirituality.
To be re-created involves relaxation and silence. One of the first steps is to learn to sit still and keep silence which is much more difficult to do than it sounds. A sign in the kitchen of a retreat house advises, "Don't just do something, stand there."
Spend some time in prayer delighting in the fact that God chose to create you. Thank God for all of created life and pray that you will treat all creatures with reverence and love. Make it your goal to be as responsible as possible for the preservation of the earth and for all the people who inhabit it, now and in the future. Rejoice that you are alive!