Prepared by Eleanor Lincoln, CSJ, and Catherine Litecky, CSJ
Women at the Well Ministry, St. Paul, Minnesota ©2004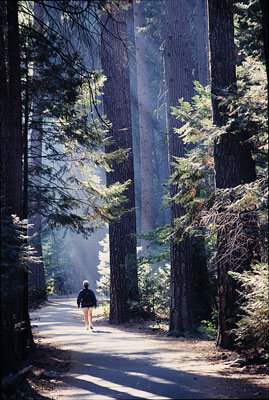 You will show me the path to life,
fullness of joys in your presence,
the delights at your right hand forever.

Psalm 16:11

Think back to when you began this retreat. Did you think of your life as a journey?
What does the photo of a woman walking along a woodland path say to you? Your journeys can take many forms: a path like this one, your drive to work, a trip to a faraway place.
Your journey is also a spiritual one. Where are you right now today – on this journey? Are you at the beginning of your spiritual journey? off on a side track? stuck in one place? moving along at a good pace?
Your journey does not go in a straight line, of course. Are you familiar with these lines from T. S. Eliot's poem, Four Quartets?
We shall not cease from exploration
And the end of all our exploring
Will be to arrive where we started
And know the place for the first time.
Your life, like all human lives, is wonderfully varied. Perhaps at times your life even goes in circles!
Whether you think about this or not, your life's journey is a birth-to-death process because you live in time. You are still the same person whether you are a child, a teen-ager, a middle-aged person, a senior citizen. You are somewhere in the life process.
Your body, rather than your spirit, takes most of your attention during its years of growth in childhood and adolescence.
In middle age, your spirit continues to grow as you have more and more life experience. At this time your spiritual energy comes into balance with your physical being.
As you grow older, your spirit continues to grow and mature. It expands and expands until your body can no longer contain it. When your spirit so fills you, your spirit goes beyond your body to the wisdom of full maturity.
In which of these life stages do you find yourself? At what stage are in you in your physical health and growth? Where are you in terms of spiritual energy?
The Psalmist in Psalm 139 can make you very aware of the wonder of yourself – whatever your stage in life:
Truly you have formed my inmost being;
you knit me in my mother's womb.
I give you thanks that I am … wonderfully made;
wonderful are your works!
My soul also you knew full well;
nor was my frame unknown to you…
How weighty are your designs, O God;
how vast the sum of them!
You can be aware of your physical well-being by how alert you are to the wonders of your body.
Spend a few moments being aware of your five senses. What do you see? What are you hearing? Are you aware of any smells or tastes? What can you feel by touching?
How do you feel physically right now? Do you have a sense of well being? or are you tired or hungry? Do you have any pains?
Live with this physical self for a few moments accept yourself, value yourself, maybe even rejoice in yourself! Keep in mind the stage you are in your physical life.
What about your spirit? How is it growing? Think about your life's journey as a spiritual quest. Deep down what is your goal for your life?
What is one question you have right now about life? Keep thinking about this question. Make it your prayer for today. But don't expect an easy answer tomorrow.
Pray for good sense and wisdom!
One of the best maps you can have for your journey to/with God is the Bible. As the Psalmist tells us, "You will show me the path to life, fullness of joys in your presence, the delights at your right hand forever" (Psalm 16:11). This can be a prayer for today and every day. Following God's path will bring you joy and delight every day, now matter what the day brings!
Pray for wisdom on your journey by pondering these scripture passages. Choose one for each of the next few days and spend a few minutes with it:
Your ways, O Lord, make known to me; teach me your paths (Psalm 25:4).
Lead me in the path of your commands, for in it I take delight (Psalm 119:35).
A lamp to my feet is your word, a light to my path (Psalm 119:105).
All the paths of the Lord are kindness and constancy toward those who keep his covenant and his decrees (Psalm 25:10).
He guides me in the right path for his name's sake (Psalm 23:3).
But the path of the just is like a shining light, that grows in brilliance till perfect day (Prov. 4:18).
Remember, as the saying goes, tomorrow is the rest of your life. In the journey of your life you need take only one step at a time. Be patient with yourself and don't expect to be "a shining light" too soon! Just keep walking!
This is the last part of "Busy Person's Retreat." As you continue your journey, you may find it helpful to reflect again and again on how to make each day count, how to live God's blessings, how to love others, how to find work meaningful, how to find God in creation, and how to pray.
May God continue to show you the path to life and fullness of joy in God's presence.