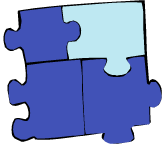 Jesus summoned the Twelve and said to them, "You know that those who are recognized as rulers over the Gentiles lord it over them, and their great ones make their authority over them felt. But it shall not be so among you. Rather, whoever wishes to be great among you will be your servant; whoever wishes to be first among you will be slave of all. For the Son of Man did not come to be served but to serve and to give his life as a ransom for many

Mark 10:42-45
Jesus' teaching calls us out to act with love and compassion towards everyone, especially those in greatest need. This final corner, service, identifies you as an active participant in your puzzle and in the puzzles of others as a friend, a family member, and a spiritual being. Service is going out and helping to meet the needs of those people without getting paid for your work.
Service Past
Looking back, you've probably participated in service. You may have cleaned up trash around your school or neighborhood, visited a nursing home or hospital, served food at a soup kitchen or homeless shelter, or even lent a hand at a school food drive or church fundraiser. Write on a piece of paper what your service activity was. Then write down the first three feelings you can remember having during the experience. Next, write down a distinct memory you have about doing that service, what you liked and what you disliked about the experience.
Through this retreat, you have examined how your family, friends, and spirituality are corner pieces in your life, pieces that frame how you will complete the puzzle of who you are. You have seen how your family, friends, and spirituality mirror you and draw you out of yourself. How does service bring you out?
Service Present
Fill out this quick survey. Draw from what you've learned about yourself during this retreat.
What are your three main interests?
What are two of your best personal qualities?
What are three of your strengths?
What are three of your weaknesses?
What motivates you?
What things do you and your friends like doing together?
What things do you and your family like to do together?
If you could snap your fingers and fix one thing in the world, what would it be?
Do you feel the call to service?
The answers to these questions will help you figure out what kind of service would be the best fit for you. If you are outgoing and want to combat poverty, volunteering at a soup kitchen or homeless shelter may be for you. If you're quiet and would like to save the earth, you can clean up the neighborhood. If you're introverted but want to combat poverty, you can get involved in collecting food or clothing for local shelters.
However, if you feel up for a challenge, take it on!
Service Future
Read the following service activity ideas. Each section has ideas for service activities involving the other three corners of your life. Record on a piece of paper whether or not you would be willing to do this activity. Think about your answer, and write down your reasons why you think you could or couldn't do it. Record challenges, excitement, and fears you may have.
Most importantly, when considering the options pay attention to what your responses tell you about yourself. This is the one corner for which you are completely responsible, and in committing to service you want to make sure the service you do is best for you, and that you are best for it.

Family and Friends
Offer to baby-sit for your parents, family, friends, or neighbors—for free.
Offer to mow the lawn, rake leaves, or shovel the sidewalk for an elderly neighbor.
Visit your grandparents. Talk to them and find out if any of their friends are lonely. Plan to visit them as well. You can spend a few hours playing cards, talking, or simply hanging out.
At Your School
If you're not ready to join an organization, find out what organizations are active in service projects in your school. Groups like SADD (Students Against Drunk Driving), Peer Tutoring, and
Music Ministry are good places to start. Usually these groups have flyers or posters up in the hallways and can always use an extra set of hands.
Many schools have food or clothing drives. In events like these, everyone can participate in service by bringing necessary items. However, these events don't run themselves. Offer to help in the promotion, collection, or whatever else could use a few extra hands.
Raise awareness for the homeless by organizing a sleep-out: a fundraiser for local homeless shelters where students spend a night sleeping outdoors in boxes and on the pavement. This is an effective way to raise awareness in your classmates and the community.
In Your Parish or Community
Your parish can always use new participants and voices to lend a hand during Mass. Look in the gathering space or the bulletin for opportunities to read, present gifts, sing, and collect offerings at mass.
Go to your priest or parish center to find out what your parish diocese or local religious orders are doing that need your help.
Local food shelves and soup kitchens are always looking for volunteers to prepare and serve food, wash dishes, and hang out with the patrons.
Closing Prayer
Loving God, my fourth corner is my service, and for this opportunity I am thankful. There is much more to life than me, though I am an important part of it. Service is my way of acknowledging that I am a member of the human community. Help me give the gift of myself to those in need. When I look at them, I will find you. When they look at me, they will see you. When I feel weak or afraid, show me that I can also be strong and brave. Help me to trust in myself. Help to show love for others, the way others have loved me. Guide me to act diligently for the good of humankind. Let me be a beacon of selflessness, love, and change for the better in the world.
Going Further
The Internet holds vast opportunities to find organizations and causes that offer the opportunity to extend your reach of service across countries and continents.  National and international non-profit organizations work to relieve hunger, repair devastation, fight injustice, and much more.  Visit our Social Justice Resources page for ways to get started.