The woman has little energy after 12 long years of hemorrhage. It keeps her from temple worship with her community. She has spent all she has on physicians. Her story calls the bleeding a scourge. The word echoes Jesus' bleeding from the soldiers' whips. The woman has heard about Jesus and seeks him out. She joins the crowd following Jesus to the house of Jairus, the leader of the synagogue, whose daughter is near death.
The woman came up behind Jesus in the crowd, and touched his cloak, for she said, "If I but touch his clothes, I will be made well." Immediately the hemorrhage stopped, and the woman felt in her body that she was healed of her disease. Immediately aware that power had gone forth from him, Jesus turned about in the crowd and said, "Who touched my clothes?" His disciples said to him, "You see the crowd pressing in on you; how can you say, "Who touched me?'' Jesus looked all around to see who had done it.

The woman, knowing what happened to her, came in fear and trembling, fell down before him, and told him the whole truth. He said to her, "Daughter, your faith has made your well; go in peace and be healed of your disease."

Mark 5.25-34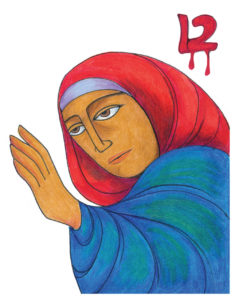 How embarrassing and humiliating for this woman to be in public with an uncontrollable flow of blood. Her faith pushes her forward. She rises to the possibility of healing. When the flow stops and she feels new strength, she tells the "whole truth" of her encounter with Jesus. What vulnerability do you want to keep hidden? Are you too embarrassed or too proud to reach out for help? What is the "whole truth" about your own healing that you can proudly tell?
Sit with this woman. See yourself in her. How will you rise to hope as she did? Perhaps Jesus' mother and Peter's mother-in-law are in the crowd that witnessed this healing. They heard the woman's testimony and rejoiced with her. Ask them to rejoice with you. Pray this prayer to conclude.
Pray for women who, when they recover from illness or addiction, can tell the whole truth about what happened to them. Be a listening heart. Tell others the whole truth of strength you have found within you in times of illness and struggle.
Woman whose lifeblood poured out for 12 years,
who grew worse with treatment
that cost all the money you had,
Your faith, your reaching out healed you.
You stepped beyond fear and trembling
to speak and testify to the new life within you.
Holy woman, full of grace as we are, pray for us.
Daughter, full of faith and vigor,
preacher of the whole truth within you.
You inspire us to tell
when we have touched the holy
and the holy has touched us.