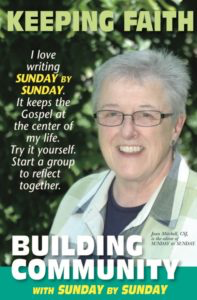 Sunday by Sunday began as the vision of Joan Mitchell, CSJ, 30 years ago.  Sister Joan has dedicated her life to the study and teaching of scripture.  She has published religious education materials for more than 40 years with the majority of her work being lectionary-based with the Pflaum Gospel Weeklies, Spirit for teens, and Sunday by Sunday for Adults.
A six-week summer session in Israel with St. John's University gave Sister Joan the itch to study catechesis and scripture in greater depth. Although when she finished her second year of German as an undergraduate Joan swore she'd never take another language, she started taking Hebrew and pursued a Masters of Theological Studies at Harvard Divinity School, focusing on faith development and scripture.
Then Joan took Elisabeth Schüssler Fiorenza's class on Women in the Gospels. The class awakened a lasting interest in feminist bible interpretation that led to learning Greek and completing a doctorate in New Testament at Luther Seminary. Joan has joined in the work of reclaiming women's significance in the scriptures, recently completing with artist Sister Ansgar Holmberg two books that use both words and art (viseo divina) on the holy women in the gospels of Mark and Luke.
Besides her work in religious education, Sister Joan was elected to the leadership team for the Sisters of St. Joseph of Carondelet, a five-year commitment. In addition to her primary commitment to writing and editing, Sister Joan teaches courses as part of the Sisters of St. Joseph Wisdom Ways Center for Spirituality. She has led parish retreats and workshops. Joan made a commitment at Divinity School never to turn down an invitation to preach, a promise she continues to keep.
Please email her with questions or comments about your small Christian communities, Bible studies, or faith sharing groups. Sister Joan is reconnecting with our readers and recommitting to the magazine. We hope you are, too!