PRAY: "O DAYSPRING, you bring God's light into our darkness.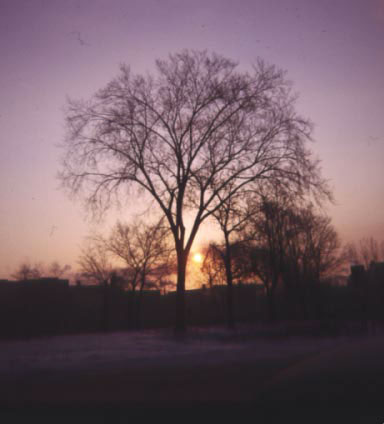 You are the rising sun,
the morning star that brightens lives and lifts spirits.
COME blaze in us and cast out all fear."
O antiphon for December 21
REFLECT:
Before beginning this week's retreat read the scripture selections for the third Sunday of Advent :
Isaiah 61:1-2a, 10-11
1Thessalonians 5:16-24
John 1:6-8, 19-28
As we move toward the middle of Advent we become more aware of the darkness of winter days.  The cycles of light and darkness are around us in these short December days.  But God is with us in both light and darkness.
Often we contrast light and darkness and think of them as opposites, with the darkness somehow less good than the light.  But really darkness and light form a continuum.  In the dawning of a new day, light gradually overcomes the dark, and in the beauty of a sunset light fades gradually.

PRAY:   
Take a moment to look outside your window.  Be aware of the light or the darkness and of God's presence found in both.  Now light your candles and pray slowly these words found in Sunday's opening prayer:
"Prepare our hearts and remove the sadness that hinders us from feeling the joy and hope which God's presence will bestow, for he is Lord forever and ever."

REFLECT:
Advent is the time of preparing the soil of our hearts for Christ's coming and for living in hope, trust, and peace.  This season is meant to be a time of encouragement.  A well-known passage from Isaiah (40:31) reminds us of the strength we need: "Those who wait for the Lord shall renew their strength, they shall mount up with wings like eagles, they shall run and not be weary, they shall walk and not faint."
Although our world is not at peace, we can hope during this Advent to experience the joy of God's presence in our hearts.
The entrance antiphon at mass, "Rejoice in the Lord always; again I say, rejoice! The Lord is near,"  invites us to begin our reflections for the third Sunday of Advent, aware that as Christians our hope will move us toward a sense of joy.
Isaiah's poetry in Sunday's first reading also puts words to our need in these days:
"The spirit of the Lord God is upon me,
because the Lord has anointed me;
he has sent me to bring glad tidings to the poor,
to heal the brokenhearted,
to proclaim liberty to the captives
and release to the prisoners,
to announce a year of favor from the Lord
and a day of vindication by our God.
I rejoice heartily in the Lord,
in my God is the joy of my soul …."

Pause now to think of the many people in the world who are poor and brokenhearted, who are refugees and captives.  Pray that your generosity in prayer and service will strengthen them in both body and spirit.  In what specific ways this Advent can you bring "glad tidings" to others both near and far?
All the readings of this Sunday speak to us about how to be mature Christians who are trying to deepen our response as followers of Jesus.  Paul's first letter to the Thessalonians, the second reading for this third Sunday, sets the theme of rejoicing.  Rejoicing, or joy, is a virtue which underlies our hope and trust in God's presence with us through Jesus Christ.  Paul writes:
"Rejoice always.  Pray without ceasing.
In all circumstances give thanks,
for this is the will of God for you in Christ Jesus . . . .
May the God of peace make you perfectly holy
and may you entirely, spirit, soul, and body
be preserved blameless for the coming our Lord Jesus Christ."
What a wonderful description of how we can continue to live out this Advent.  We can rejoice, pray, give thanks–all with hope in our hearts–as we prepare for the coming of Jesus into our world.

PRAY:
As we approach the winter solstice, the shortest day of the year, we can rejoice that Christ the light of the world will shine in our hearts anew this Christmas.  We can greet each day as it dawns with these words:

"Rejoice in the Lord always; again I say, rejoice! 
The Lord is near."

Check back Sunday, December 18th for the 4th week installment.