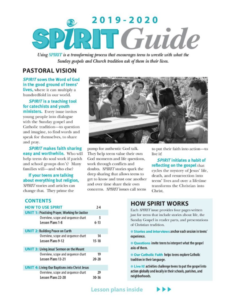 SPIRIT Music Xtra
SPIRIT Music Xtra suggests a piece of popular or Christian music to use as an icebreaker with each issue of SPIRIT. Each suggestion describes the theme of the song, provides key lyrics, and includes questions for group reflection. SPIRIT Xtra invites your teens to reflect on popular music critically and spiritually. If a song does not fit your group, the Xtra may spark ideas for songs with similar themes.
Your teens can help have the music ready for SPIRIT groups. They are your first and best source for bringing the music to your sessions. Or download songs from one of the legal downloading programs on the internet such as iTunes, Spotify, or Pandora.
You can play the song through a computer or through other mobile devices. Listen to the songs before you use them.