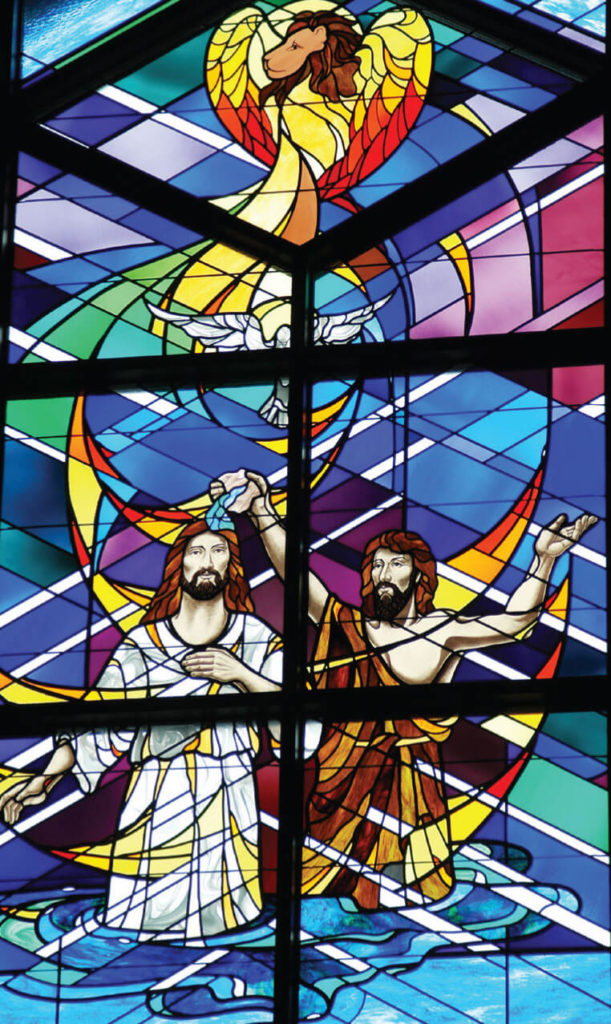 Sunday Readings: Isaiah 42.1-4, 6-7; Titus 2.11-14, 3.4-7; Luke 3.15-16, 21-22
Now when all the people were baptized, and when Jesus also had been baptized and was praying, the heaven opened, and the Holy Spirit descended like a dove. And a voice came from heaven. "You are my Son, my Beloved; with you I am well pleased." – Luke 3.15-16, 21-22
For John the Baptist, baptism is a turning toward God. The washing is an act of repentance and change of heart that marks a new starting point. Jesus discerns his mission in this setting among people seeking God and goodness.
Nobody works with greater zeal and tirelessness than John to make the people ready to welcome Christ. He insists that God's savior is near at hand. He prods the people to keep looking — yet again. Finally, as Jesus himself comes up out of the baptismal waters, a visible dove and an audible voice from heaven affirm that, at long last, this is one. "Behold my beloved Son, the reliable gateway to salvation!"
When Jesus is baptized, the Holy Spirit comes upon him. At Baptism the Holy Spirit comes upon us to help us become like Jesus for others — welcoming all, loving and forgiving one another, sharing, and making peace. It is a call to holiness.
As babies we are not yet the searchers we become. Parents speak for us — our name, why we have come. "What do you ask of God's Church?" a priest or deacon asks. "Baptism," they say and later in the rite promise to teach us about Jesus, his gospel, and the traditions of the Church.  Sunday's feast calls us as adults to reflect on the faith we profess together at every baptism.
When have you experienced the Holy Spirit urging you to act like Jesus? What is the Spirit urging in you?