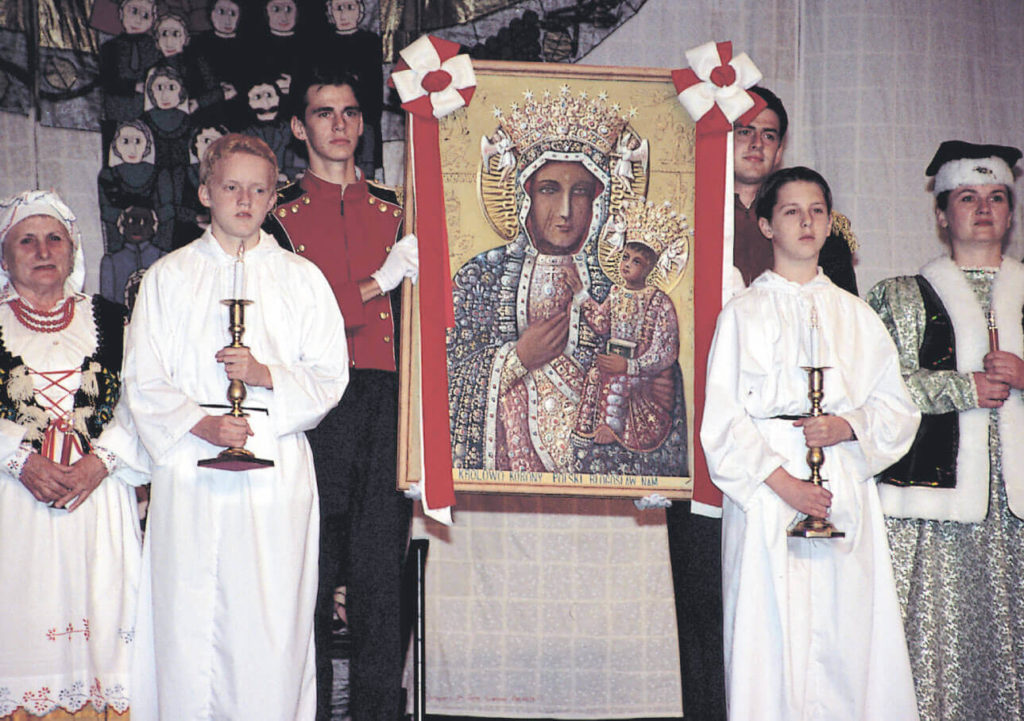 Artists find having Mary, or Jesus in his ascension, rise through glorious clouds quite irresistible. But now that planes, space stations, and giant telescopes have tamed the skies, we envision heaven not so much in the clouds but as communion in God, a lasting relationship. At death we step into mystery, into faith and promise.
The gospel's have no account of Mary's assumption. On this feast we remember Mary's visit to her kinswoman Elizabeth, two pregnant and prophetic women who trust God's promises. The Spirit fills Elizabeth with an ecstatic testimony that Mary is three times blessed: blessed are you among women, blessed is the child in your womb, and blessed is she who trusts God's words will be fulfilled. We reflect on Mary's prayer magnifying God's greatness, a song of justice and liberation.
God has looked on her in her lowliness, Mary says in her song. She comes from among the poor where families lived in houses with dirt floors and cooked outside. She lived under triple taxes — to the Roman Empire, to Herod the local king, and to the temple.
Mary was a young teen when Herod the Great died and peasants in Galilee revolted and attacked the city of Sephoris, a tax collection center, four miles from Nazareth. Roman soldiers put down the attack and rampaged through the villages of Galilee doing violence. Mary lived through headlines like ours today.
Mary's God is stronger than empire. God's arm scatters the proud and brings down the powerful from their thrones. God's arm fills the hungry and sends the rich away empty. Her song announces God's intent to transform history for the poor.
In fact, Mary's song proclaims that what God has done for her fulfills promises made to Abraham and Sarah, Israel's earliest ancestors in faith. What God does in lifting up Mary is what her prayer praises God for doing throughout Israel's history.
Mary's story parallels the story of Israel. God heard the outcry of the people enslaved in Egypt and sent Moses to set them free. Mary's Magnificat testifies that God extends mercy from age to age and keeps faith with the poor and hungry.
Among Christians Mary has many faces, all of them faces of hope. As the Immaculate Conception, Mary wears the blue robe of France's monarchy. This image of Mary comes out of Europe in the 19th century as the Church lost lands and secular status. Mary reigns as an ideal Christian queen and intercessor with her Son.
What is your favorite icon or image of Mary?
What does Mary represent to you?
In culture after culture peoples clothe Mary as one of their own. The image of Mary that appears on Juan Diego's tilde shows Mary wearing the starry robe of the Aztec goddess, standing on the moon, a black bow of pregnancy at her waist, her face brown like the earth and the indigenous people.
Mary appears to Juan Diego in central Mexico in 1531, only 40 years after Columbus arrives and the Spanish conquer the Aztec nation. She promises to hear the prayers of this indigenous people, utterly defeated by war and smallpox, to open a future for those who have none.
Our Mexican brothers and sisters see the human face of God in Our Lady of Guadalupe. Her promise to Juan Diego to hear the prayers of his people is an empowering promise to lift up the lowly.
Mary is not only an individual woman who trusts all the Spirit conceives in her and then gives birth to Jesus, but also a woman who represents her people. She comes from among their poor. Israel's religious traditions nourish her openness to God's dwelling in her. Like the whole people, Mary is God's dwelling place. She bears God into the world in giving birth to Jesus. Mary gathers with the first believers on Pentecost when the Spirit sets their tongues afire with the good news in every language and gives birth to the Church
Mary actively joins in Jesus' jubilee movement of bringing a year of God's healing, forgiving favor among the people. In John's gospel she helps Jesus inaugurate his ministry and begin his new community at the Cana wedding feast. She tells others to do what he says. Near the end of John's gospel Mary stands with Jesus at the cross.
Mary visits Jesus during the early days of his ministry to question what he's doing. She is actively involved. Jesus includes Mary in his expanding family of believers. "Whoever does the will of God is my brother and sisters and mother" (Mark 3.35).
What does Mary show us about who we Christians are?
How can we embody God's Spirit in the world?