by Jessica LaRonde
On August 15, 2007, an 8.0 magnitude earthquake hit the coast of Peru, devastating Pisco and Chincha, two cities located about 200 miles south of Lima, the capital of Peru. In Chincha alone, about 80,000 families lost their homes. Walls made of mud brick crumbled. A thousand people were killed, 105 in Chincha, the city where my aunt, Sister Pauline Coulterman, did mission work for 23 years.
Relief started to reach Chincha after a few days. People could get food, water, blankets, medicines and tents at 15 shelter stations. To eat, 300-400 people huddled around one common pot. We heard these stories six months later when my classmate and friend Lana Johnstone and I journeyed to Peru with my aunt, taking money to build a school.
In September, as the school year started at Opeongo High School in Douglas, Ontario, our Interact Club went into action. Affiliated with the local Rotary, this club enables students to make a difference around the world. Each year the club chooses a project, for which we actively raise money.
Being proud members of the Interact Club, Lana and I proposed that the club undertake raising funds for the people in Chincha. I put together a presentation on the effects of the earthquake on the Peruvian people to share with club members and the student body. The club unanimously agreed that Peru would be a great cause. Before Lana and I left on our journey, the club raised $750 for building a schoolhouse in Chincha.
On February 1, 2008, we left the raging snowstorms and below 20 temperatures at home in Canada and welcomed the hot and humid climate of Lima. My aunt, Sister Pauline, a Sister of St. Joseph of Pembroke, was our mentor and guardian. In her years in Peru, she started a scholarship program for school children, a senior home, and other projects.
Once settled in at the convent of Las Hermanas de San José in Chincha Alta with Hermana Gloria and Hermana María, we met with the local parish priest, Padre Santiago, and our contractor so we could collaborate on the building plans. The Interact Club funds would build a preschool for toddlers and children with special needs.
Lana and I saw this project through to its very end. We assisted with measuring, hammering, and varnishing the walls and helped out with final touches. On March 3, 2008 (two days before we returned home), we gathered with teachers, parents, and children for the grand opening. Their smiles, laughter, and signs of gratitude were humbling as we watched our Canadian flag fly along with the Peruvian flag on top of the schoolhouse.
Along with building the school, we assisted with the scholarship program for children. Many people from our home Diocese of Pembroke support children in Peru. Their donations help purchase school uniforms, school supplies, and supplies for teachers. Lana and I fitted and gave away about 90 pairs of shoes that we brought in our suitcases as well as clothing, toys, and supplies.
With Hermanas María and Gloria we visited each child's home, met their families, witnessed the conditions of their living environment, and listened to their stories of sadness and loss. We saw firsthand not only the severe damage the earthquake caused to the homes and buildings, but we also felt the profound grief the people experienced and the way they pulled together to help each other.
At an area called "Olla commún" we also experienced eating from the common pot. About 25 people gather and bring a variety of foods to mix in this huge pot; they cook and serve their families together.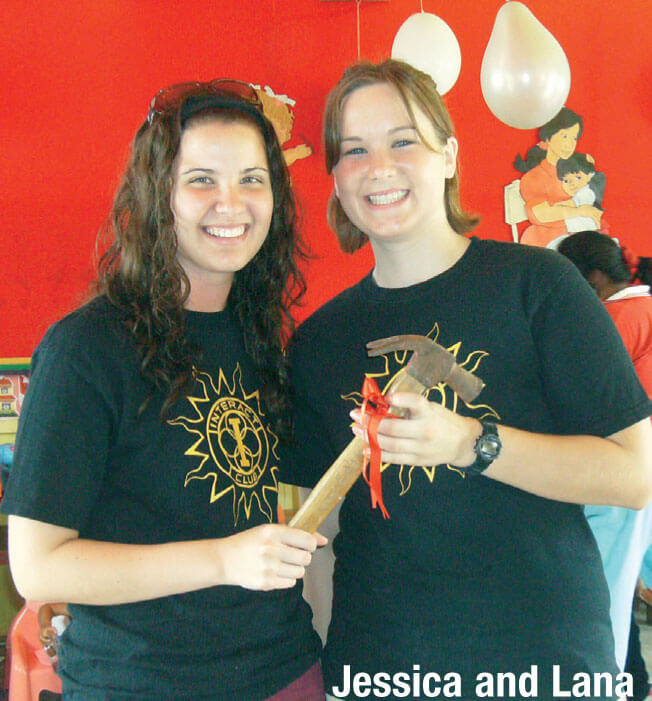 On February 23, a river flooded the nearby community of Alto Loran. The homes of 28 families washed away along with their crops and livestock. We drove through the river to reach the people and deliver supplies. We brought a propane grill, food, water, shoes, and clothing to families relocated in a field in several tents.
Aside from the exhilarating experience of completing our initial project and assisting with others, we experienced a festival of dance, music and food in Chincha. We traveled to Machu Picchu, an Inca city in the mountains that is one of the seven wonders of the world.
As our trip drew to an end, I realized I was beginning another journey. I hope to come back to visit with Hermana Gloria, Hermana María, and the special friends we made. I have learned never to take anything for granted and never be afraid to experience new things.