Prepared by Eleanor Lincoln, CSJ and Catherine Litecky, CSJ
Women at the Well Ministry, St. Paul, MN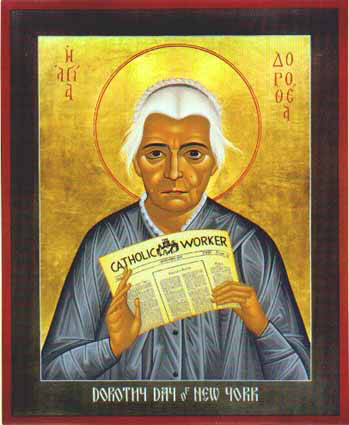 We cannot love God unless we love each other, and to love we must know each other. We know [God] in the breaking of the bread, and we know each other in the breaking of the bread, and we are not alone anymore. Heaven is a banquet and life is a banquet, too, even with a crust where there is companionship.


From the Postscript of The Long Loneliness, the Autobiography of Dorothy Day, (Harper and Row, 1963)
As you begin this retreat, spend a few moments simply looking at the picture of Dorothy Day's face. Read her words over several times. What do her picture and her words tell you about her? Ask God to bless you as you begin to reflect and pray about the words and actions of Dorothy as they touch you personally. Pray for the grace to be a person of prayer and justice eager to face the challenges of life with courage and wisdom.
Many contemporary people have had the privilege of meeting Dorothy Day. At the time I heard her lecture in the 1970's, she struck me as a serene, contemplative woman at ease with herself and attentive to others. I remember how privileged I felt to be in the presence of a woman who lived the message of the gospel so completely.
Since her death in 1980 people have come to realize even more that she was indeed a mystic, a woman who gained wisdom through love by accepting God's love for her. She returned that love in her life of prayer and in doing works of justice.
Numerous biographies and collections of her writings are available in libraries and bookstores along with her autobiography The Long Loneliness. She tells us that the word "loneliness" as used in her title means a longing for God, a longing which continued to deepen as she grew older.
That you have chosen to make this retreat indicates that you too long for a deeper relationship with God. During this time think about recent times in your life. Are you aware of having been touched by God during times of prayer or perhaps at a time of happiness or a time of sorrow? If you have felt the nearness of God, thank God for that grace.
Many of the psalms and other prayers used in the liturgy express longing for God. "As the deer longs for running waters, so my soul longs for you, O God" (Psalm 42:1) or a favorite psalm of Dorothy Day: "Bless the Lord, O my soul; and all my being, bless [God's] holy name" (Psalm 103:1).
Before she came to be the mystic and saint she is considered to be now, Dorothy Day led a wild, bohemian life. As a young journalist, she wrote for a socialist newspaper, the New York Call. Her personal life in her twenties gave little indication of her future path. After her first marriage failed and she had an abortion, she was devastated emotionally and physically. She left New York for California to recuperate. There she wrote movie scripts and a novel (which was largely autobiographical.) After her conversion this novel caused her real embarrassment and anguish, and she wished it were possible to destroy every copy of it.
Growth in spirituality gives us a new awareness of our sins and failings and of the constant need to ask God for the grace of forgiveness. One helpful way to become aware of our sinfulness is to take some time to reflect on the thoughts and actions of each day, trying to discover our motives. We thank God for the good things we have done and ask God's forgiveness for our offenses. We then can ask God to help us to begin the next day anew by reciting Psalm 51 which begins, "Have mercy on me, O God, in your goodness; in the greatness of your compassion wipe out my offense. Thoroughly wash me from my guilt and of my sin cleanse me."
Dorothy Day's conversion required great personal sacrifice. After her failed marriage and abortion she entered into a common law marriage with a man who was an anarchist and atheist. She loved him deeply and referred to this time with him as one of natural happiness. However, in the surprising way of God, she began to feel drawn to prayer and the life of faith. Her happiness knew no bounds when their daughter, Tamar Teresa, was born. Dorothy had decided during her pregnancy to have her child baptized even though she knew her husband would leave her if she did. He did leave when she chose, to his dismay and that of her friends, to become a Catholic.
A conversion experience often brings joy to those who choose to accept a life of faith or to follow a call to leave others behind. It also can require great courage to leave the familiar for the unknown.
Have you had to make decisions that meant leaving behind beloved persons or comfortable jobs in order to grow in your love of God and service to others? Pray for the strength and courage to be able to make difficult decisions to help you come closer to God as you try to serve others.
Dorothy's conversion experience was depicted poignantly in a movie, Entertaining Angels, which dealt with her early life, her conversion, and the establishment of The Catholic Worker newspaper and movement with Peter Maurin. In the movie, Moira Kelly plays Dorothy and the role of Peter Maurin is taken by Martin Sheen.
It was during the depths of the depression in the early 1930's that Dorothy Day, together with Peter Maurin whose vision of a Catholic social order resonated with her own, began the Catholic Worker movement. Peter, a French peasant, teacher, and philosopher who lived a life of voluntary poverty in the spirit of St. Francis of Assisi, taught Dorothy the history and meaning of Catholic social justice teachings. Together they spread these teachings on social justice in The Catholic Worker newspaper which first appeared on May 1, 1933 and sold for a penny a copy.
Until shortly before she died, Dorothy continued to write a column, "On Pilgrimage," in which she shared her rich insights on prayer, justice, and hospitality. The circulation of the paper rapidly grew as its message touched the hearts of many Christians eager to embrace the teachings of Jesus on love of God and of neighbor.
Dorothy wrote of the importance of putting into practice the teachings of Jesus in Matthew's gospel (25:31-46.) The idea of this passage is familiar to Christians: Whatever you do to my brothers and sisters in need, you do to me. In the houses of hospitality which were established all over the country many needy people were then, as now, fed, clothed and sheltered. For Dorothy Day the love of Jesus must be shown in action. Rarely has anyone lived out so completely this message of Jesus. Dorothy's example of gospel living is still lived out in houses of hospitality.
Read reflectively the gospel passage in Matthew 25: 31-46. Ask yourself how you are putting into practice what Jesus asks of all Christians. How could you feed the hungry, give drink to the thirsty, welcome the stranger, clothe the naked, care for the ill, or visit those in prison? What one action could you take today?
Dorothy Day lived out her belief that works of mercy, which also might be called acts of loving kindness, are to be done out of a love sustained and nurtured by prayer. Over and over again she insisted that prayer is the foundation and motivating force of the Catholic Worker movement. Jim Forest, who worked with Dorothy at the Catholic Worker house and later became managing editor of the newspaper, wrote that she taught him that justice begins on our knees. He added that he never knew anyone who was more a praying person than Dorothy Day.
Dorothy wrote that throughout all of her life she had somehow been haunted by God. Like St. Augustine in his dissolute young life she had experienced a restlessness for God. She desired fullness of life for herself as well as for everyone else and her prayer always embraced neighbors close at hand and far away.
Dorothy's spirituality was rooted in the Word of God. She loved praying the psalms and reading the letters of St. Paul. A friend of mine whose life and work have been inspired by her association with Dorothy said that Dorothy constantly repeated this verse from Psalm 103: "Bless the Lord, O my soul and all that is within me bless [God's] holy name."
Like St. Paul she saw Christ in others, especially those most in need. In her words, "The most radical thing we can do is to try to find the face of Christ in others, and not only those we find it easy to be with" (quoted from an article by Jim Forest in U.S. Parish, August, 1995). Living from day to day, taking no thought for the morrow, seeing Christ in all who come, and trying literally to follow the gospel shaped her ministry.
Dorothy Day worked principally as a journalist and author of eight books, expressing her faith and spirituality. Her writings helped support herself, her child, and the Catholic Worker movement. She addressed many of the causes of injustice and violence affecting people who were poor or oppressed.
She gave witness by joining protests, picket lines, and boycotts in support of obtaining justice for workers. She sometimes spent time in jail for her convictions. She was in jail for the last time at age 76 because she participated in a non-violent demonstration in support of the United Farm Workers.
All of her life she was a pacifist, often meeting with opposition to her anti-war stands. She was among those in the 1960s who formed Pax Christi, an organization that continues to work for peace.
Her journals show that in all of these causes and conflicts she never lost sight of her search for God.
People who knew Dorothy Day in person speak of her authenticity and integrity. Writer-editor Robert Ellsberg writes that there was no distinction between what she believed, what she wrote, and how she lived. Others agreed that what they saw was what she was. She had an extraordinary well-developed sense of humility, of the truth of herself.
Her spirituality was strongly shaped by her reading, and she read a great deal. She credits the novels of Dostoyevsky and others for sustaining her in her search for God. As she grew older, she loved reading the lives of the saints, and, in a sense, walked in their company. That company included Teresa of Avila, Catherine of Siena, Julian of Norwich, and especially Therese of Lisieux.
She found herself drawn especially to the "little way," a phrase used by St. Therese to describe her approach to God. This " little way" meant that the power of love can change the world. Dorothy Day understood that change occurs not in large dramatic events but in how we live moment by moment.
Take a few minutes now to reflect on what you have learned about Dorothy Day, woman of prayer and justice. How does her life inspire or challenge you? Pray with her: God, help us to put love into action and do all for your love.